Our rights been stripped more than cars in the ghetto
BY
Staff
, October 9, 2005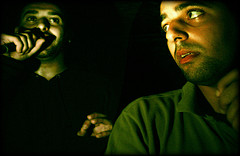 Our rights been stripped more than cars in the ghetto
Originally uploaded by AnomalousNYC.
Tamer and DAM crew reppin hard at our show on Wednesday.
On friday we had dinner in Harlem at Martha's place and there was a post dinner shake down cipher with DAM and 8 year old Joseph who was a Katrina survivor and had spent 3 days on the roof of his house waiting to be rescued with his family. The kid is on his way to greatest. He dropped freestyle all over Bush and Helicopters and being stuck on the roof for 3 days…then he traded off with DAM. Afterwards he told Tamer something to the effect of "ya'll use funny words I don't understand". The whole night is one for the history books. Its why World Up exists.


Permalink:
No Comments »
No comments yet.