Mixtape Series
World Up Mixtape Series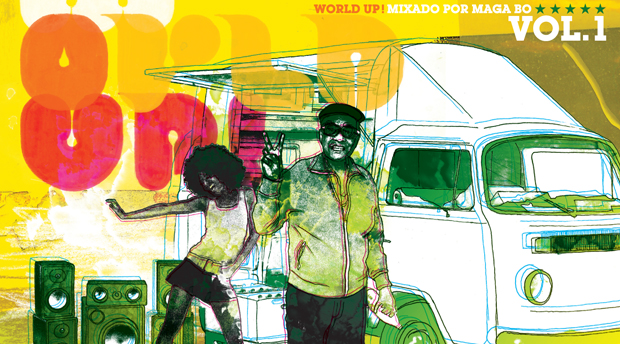 Maga Bo:
Maga Bo is based in Rio. He's a DJ/Producer who is worked with many of the Hip-Hop Stars in Brazil (Marcelo Yuka, Mr. Catra, B Negã, Pavilhã 9..to name a few). In addition, He has spent extensive time traveling and recording MCs all over the globe. His World Up mix is heavily influenced by the sounds of Kwaito, Rai, Baile Funk, and the Ragga Dancehall sounds of the Brazilian reggae/hip-hop scene. Enjoy!
Maga Bo's latest release, Archipelagoes, is available on Soot Records you can cop it from ITunes or Amazon
World Up Mixtape:


Download Here
///01. Maga Bo - Morning Santa Teresa, Rio de Janeiro Exclusive [Brazil]
///02. Emmanuel Jal & Abdel Gadir Salim - Elengwen [Senegal]
///03. DJ /rupture - High Resolution [USA]
///04. Sibot - Super Evil feat. Waddy Jones Fanstikill [South Africa]
///05. Mapaputsi - Kleva (Ragga Mix) [South Africa]
///06. LupeFiasco - Titled [USA]
///07. K'Naan - Soobax [USA/Somalia]
///08. Kelis, BeenieMan & TOK - (Heatwave Remix) Trick Me Twice [UK/USA/Jamaica]
///09. Mixmaster Mike/Blackalicious - Kalakuta Show [USA/Nigeria]
///10. whitelabel - Lambula - [Angola]
///11. DigitaldubsSound System - Arrego feat. Biguli [Brazil]
///12. RhythmDoctor - Bigmouth [UK/Estonia]
///13. Conjunto Ngonguenha - Kanguei O Maiki [Angola]
///14. Duda do Borel - mystery mp3 - Proibidão Vila Kenedy [Brazil]
///15. DiChinelo - Tamborzão - Exclusive [Brazil]
///16. whitelabel - mystery mp3 - Proibidão Vila Kenedy [Brazil]
///17. Volt Mix [Brazil]
///18. Diplo - Jungle Fever Riddim Missy Remix feat. Vybz Kartel [USA/Brazil/Jamaica]
///19. Maga Bo - Não Me Diga feat. Katia Drummond & Tulani - Exclusive [Brazil]
///20. Buraka Som Sistema - Yah! feat. Petty [Portugal/Angola]
///21. Lady Fury - Too Much Drugs (Ghislain Poirier Remix) - [UK/Canada]
///22. MoreFireCrew - Oi! (Original Mix) [UK]
///23. Dead Prez - Get Ready![USA]
///24. Timeblind - Cassette Deck Exclusive [USA/Germany]
///25. Crazy Titch - Crunk Along Crunk and Grime [UK]
///26. SSK - Dance All - Exclusive [Senegal]
///27. AFilial - Quando Não Pode Não Pode (Truth & Rights Riddim) - Exclusive [Brazil/Jamaica]
///28. Ando Kal - Serious feat. Joe Daddz -
///29. Ghislain Poirier - Civil Disobedience - [Canada]
///30. Dakar All-Stars - Cafka Mbed part. II - [Senegal]
///31. DJ Krust - Coded Language feat. Saul Williams [UK/USA]
///32. Z'Africa Brasil - A Cor Que Falta Na Bandeira Brasileira [Brazil]
///33. Teba - FCK (Raw Mix) [South Africa]
///34. DJ Maloca - O Nome Do Jogo [Brazil]
///35. Curumin - Cadê o Mocotó? - Exclusive [Brazil]
///36. Maga Bo - Saye Mbott feat. ALIF - Exclusive [Senegal]
///37. Fid Q - Fid q.com - [Tanzania]
///38. Chiskop- Emzini - Sunday [South Africa]
///39. Arianna Puelo- Rap Pa Mi - [Puerto Rico]
///40. DJ Babão- Marinheiro Só [Brazil]
///41. Mad Cobra - Hard Fi Do (Intro) [Jamaica]
///42. MBS El Ghorba -Le Micro Brise Silence [Algeria]
///43. Didier Awadi - Le Cri Du Peuple Un Autre Monde Est Possible [Senegal]
///44. Jazzanova - Keep Falling feat. Ursula Rucker (Forss Remix) [Germany/USA/Sweden]
///45. Maga Bo - Bondinho do Santa Teresa, Rio de Janeiro Exclusive [Brazil]
Total time: 1:01:38
Mixed live and tweaked out of time by Maga Bo at Comando Digital, Rio de Janeiro, Brazil, Dec., 2006. Mixed by Maga Bo

/// Executive Producer: Ebenezer Bond
Design: Dimaquina www.dimaquina.com
/// Producer: World Up
---
Notes on the Proibido Tracks:
Maga Bo says-
"The whole story about the proibido tracks goes back a long ways and is a bit confusing and poorly recorded. Basically, a whole load of songs emerged in the last 10 to 15 years that support the drug trafficking gangs (Comando Vermelho, Terceiro comando, amigos dos amigos, etc.) and that explicity say to kill the enemy - the police, the X-9 (informer), the Alemão (enemy - could be informer, police or the opposing faction). The police obviously became aware of this and eventually, these songs were banned. AND the sale of these songs. So, of course, they continued on and more and more songs came out. The lyrics are in the process of quickly turning "traditional" - meaning, nobody knows who wrote the lyrics. some can be tracked down, others can't. To make matters even more difficult, the whole arrangement of baile funk authoral and publishing rights is ridiculously simplified. And, of course, at the detriment of the artist (again). Funk artists often simply sign away their tracks to Furacão 2000, Pitbull, Pipo's or others for a pittance (just so they have cash in their pockets that day) and the songs get designated to the company.
The lyrics of Duda do Borel talk about the very real and common plight of a young kid in a favela who wants to make it in life. The outlet that he sees and finds and manifests is in trafficking. It talks about the trajectory of a young kid in traficking and why he does what he does. without translating (or for that matter without understanding the portuguese), it's difficult to do it justice. It is Cidade de Deus, Falcão (documentary by Celso Athayde and MV Bill), batida de funk and a plea for sympathy and compassion all rolled into one. The lyrics are so strong that it doesn't need a base, or instrumental track to back it up. It's about ambition, desperation, being caught between a rock and a hard place all at once. And, it's REAL. And happening as I write this. This is not the stereotypical funk that is being hyped at the baile funk berlin, baile funk london, baile funk I don't know where. This is not about women shaking their ass or samba and beer and futebol. This is an extremely poetic rendition of the motives that are in action in the life of a trafficker in Rio de Janeiro. this is a track that get (that GOT) passed from hand to hand. That's why there is a click in it. I could take that out with some digital scrubbing, but I think it needs to stay in there exaclty for that reason. At the end of the track where it says comando, comando, comando, comando…..it would have said (I edited it out), comando vermelho (the name of the most prominent trafficing syndicate). THAT is the main part that makes it proibido. The track talks about a young kid who can't find a job and ends up with an AK-47 in his hands. He's not even able to sleep at night. His mother prays for him. Prays that the police won't come. Something goes wrong, he gets a shot in the hand and ends up in jail for sometime, but comes back with even more conviction - he'll only leave the favela when he's dead…….