World Up on Race: 'Til the White Day is Done
BY
jlove
, June 3, 2010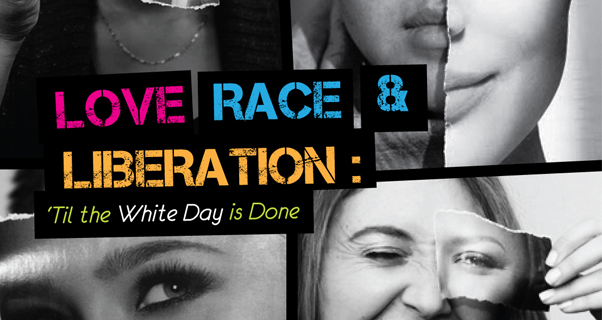 This is the first blog entry in 'Til the White Day is Done, a project by author and activist JLove Calderon. JLove can be considered an authority on the presence of racism, white privilege and persistent white supremacy in our society, and we think sharing her expertise in this space will create a great dialogue among the World Up community. Please stay tuned and see what she has to say, as well as the gripping celebrity interviews she has gathered on her journey.
Why white privilege?
As a white woman in America, I believe it is my responsibility to speak up against an unfair system bestows unearned benefits on me, simply due to my skin pigmentation (or lack thereof).  I stand for Truth, Love, and Freedom. I seek a just, harmonious, and peaceful world for all people and all living things.  Although it took me years determine my mission in life, I am here now. But I didn't get here by myself. Many compassionate activists, mentors, and friends helped guide me toward my path, and I am forever grateful.
What is 'Til the White Day is Done?

A holistic and interactive journey focusing on racism and white privilege throughinterdisciplinary arts, education, and entertainment. The title of this guide gives a nod to the one of the greatest poets of the twentieth century, Langston Hughes, as "'til the white day is done" is a line from his 1926 poem Dream Variations. In the daytime universe of the poem, the narrator dreams of flinging his  arms wide in the face of the sun—an act of protest and resistance, of joy and celebration. 'Til the White Day Is Donerepresents a commitment to end oppression in all forms, to eliminate the current "White Day."

The program includes an anthology, the curriculum guide Love, Race and Liberation(co-edited by myself and Marcella Runell Hall and sponsored by the NYU Center for Multicultural Education and Programs), adocumentary directed by Byron Hurt, and produced by Marla Teyolia and myself, and a national "town hall" style tour. Elements of the project are in collaboration with Eradicating Racism, an initiative of the non-profit 1+1+1=ONE.
Who's Down?
Lucky for me, there are many folks out there who feel as strongly as I about this. These are artists and activists that I am proud to call friends, comrades, and co-conspirators. Some of the game-changers, paradigm-shifters, and wisdom-callers who contributed are:

Sonia Sanchez, Talib Kweli and his father, Dr. Perry Greene, Marcella Runell Hall, April Silver, Rosa Clemente, Danny Hoch, Inga Musico,Jeff Chang, Tim Wise, Suheir Hammad, M1, Esther Armah, Baba Israel, Dr. Pedro Noguera, Kahlil Almustafa, Sofia Quintero, Peggy MacIntosh, MC Serch, and many, many more.
Readers will have an opportunity to hear from many of these folks, through their writing on the blog, and exclusive interviews I have captured on film.
Where You Fit In:
We hope that this will be the beginning of a beautiful relationship, a dialogue, a discussion, and then change. We are not here to pontificate for our own satisfaction. We are here to build an anti-racist, pro-liberation worldwide movement to dismantle the shameful and devastating system of white supremacy and all of its evil incarnates. Join us.
READ. ENGAGE. ACT.
With Love,
JLove
Photo Credit B-Fresh/Design Credit Caitlin Meissner

Permalink:
2 Comments »
Thanks for jumping into the conversation in such a creative way. I look forward to following you on your journey (in which I'll learn more about my own as well, I expect). I've talked about race a lot, but you can only do that for so long. I love the creativity of this organization, and expect I'll view many things in new ways because it's just the nature of what you do. Thank you!

Comment by Sarah Eisele-Dyrli — June 7, 2010 @ 8:51 am

I love the topic.Personally I feel that there is only one race and that's the human race. Racism is a stink that will never leave. I feel alot of grownups teach the youth to pass on racism. As much as things change it remains the same. There are Afro American children that would tell you they hate white people and cant explain why they feel that way. If we want to eradicate racism it should start with the adults and work our way to the youth.