Nneka's Soul is Heavy
BY
Laura Norkin
, January 18, 2012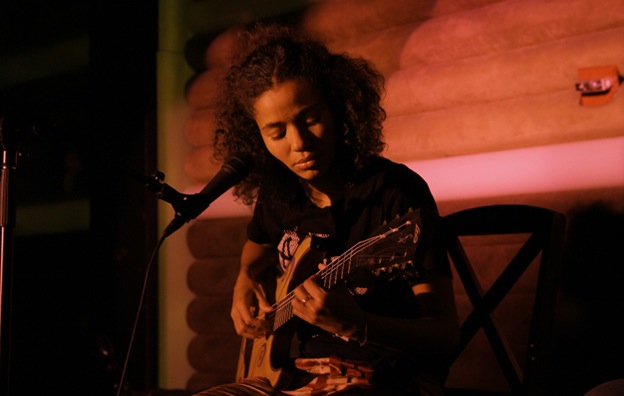 "Be true to yourself, face your demons." Nneka sang the words to "Camouflage" after momentarily forgetting the lyrics and fessing up with a smile. A front-row occupier at an intimate acoustic event in New York's Meatpacking District helped her out with his smart phone, and the show went on. Nneka faced her demons, this time her own words, and delivered a show some in the crowd knew to expect.
Soul is Heavy hit stores this winter and the Nigerian-born songstress starts a U.S. tour in March. A small group of local fans and industry types were treated to the preview session last night and early opinion looks like this album is a solid follow-up to her debut. She opened with "Shining Star," a staccato song that starts as feisty as her first album then quickly turns to urging desperation (like Tracy Chapman, at parts). Finger picking her own guitar (and accompanied by one other), she treated the audience to multiple Nneka voices with a loop station. "They make everything now like you don't need people," she joked, often balancing her guitar sideways to choose her own vocal and percussion tracks.

She follows last year's "VIP" or "Vagabonds in Power" with an anti-love song to the system. She has a new air of confidence this time around, letting her mix demanding messages with the sometimes gentle melody. She points to the audience, explaining that we, her collective fans, have given her a first shot at actually being heard. "Now I have the chance to share, and speak [about] the fears of many who have been forced to respect lies, hypocrisy and more." Suddenly, Nneka feels like a participating member in the society she'd been quietly singing and writing about for most of her life. The power in her words and voice, and the silence in the otherwise scene-y nightclub, Cielo, helped show that.
In one of her signature emotive hooks, Nneka slapped her guitar's body to make you feel her low notes. If you were in the crowd, you might've been unsure whether it was the song's power, or the benefit of Cielo's well-engineered sound system delivering that blow straight to your heart. When she walked off the stage the room was handed over to D.J. MoMa and special guest Vikter Duplaix, and even in the presence of those greats the dance floor cleared. There was no following Ms. Nneka and her heavy soul.
Photos by Eric Z. Camins

Permalink:
1 Comment »
[...] Soul is Heavy hit stores this winter and the Nigerian-born songstress starts a U.S. tour in March. A small group of local fans and industry types were treated to the preview session last night and early opinion looks like this album is a solid follow-up to her debut. She opened with "Shining Star," a staccato song that starts as feisty as her first album then quickly turns to urging desperation (like Tracy Chapman, at parts). Finger picking her own guitar (and accompanied by one other), she treated the audience to multiple Nneka voices with a loop station. "They make everything now like you don't need people," she joked, often balancing her guitar sideways to choose her own vocal and percussion tracks…-World Up [...]

Pingback by Co-Sign Collective » Blog Archive » World Up - Nneka's Soul Is Heavy — January 26, 2012 @ 6:48 pm