The New V.I.P.: Singer Nneka Challenges the Status Quo
BY
Laura Norkin
, February 5, 2010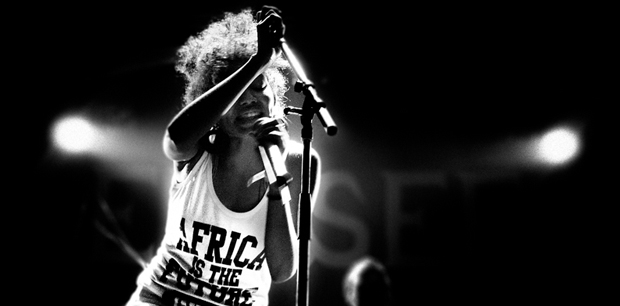 Like watching an ant carry a morsel 20 times its size, seeing the diminutive, Nigerian-born singer Nneka belt about finding your own strength-you're forced to believe in the impossible. You're being confronted with its unlikely proof. With songs about un-asking, unadulterated love, or her own interpretation of the acronym V.I.P. (that's "vagabonds in power," and relates to the abusive power in-and appropriation of oil underneath-the land where she was born), this scant songstress is ready to make big changes in the way music moves us.
With a cheekbone-driven face like Erykah Badu, Sade's inescapable passion and Fela Kuti's social power—she's got the potential to make great things happen through her art, and an unassuming beauty that seems unfit for someone so politically aware. In her moving show at New York's S.O.B.s this week, her upbeat tunes had the audience clapping along by the second song, and she waited until an hour into the short set to let us know she could flow, too. She's clearly not resting on one style. A call and respond portion got heartfelt audience participation, which 88 Keys could tell you is a feat with New York's persnickety crowds.
Her only goal, she says, is to introduce us to "dis whole Nneka thing," and we bet that if you take a look at her recent David Letterman performance, you'll get it. She may still be working out what this hopeful, captivating thing is-but you know you'll want to be there when she does.
Her brand new album "Concrete Jungle" is out now, and it's coming highly recommended from a couple World Uppers who were blown away by their first Nneka show.
(photo from Africa Is The Future)

Permalink:
1 Comment »
Nice article, you really do a good job of finding words worthy to describe this unique star on the rise. My band shared a bill with Nneka in Boston and she's just got this powerful spirit that brings people in, captivating them with music and challenging them to face issues of injustice at the same time. Her band is real tight too. She's definitely going places.