Revolución Sin Muertos || Revolution Without Death
BY
Eric Z. Camins
, May 26, 2011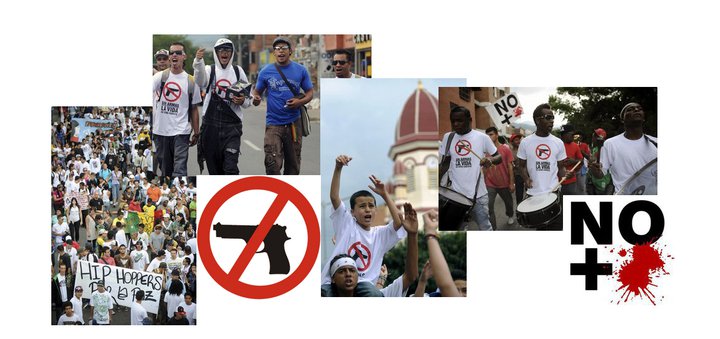 Filmmaker Eli Jacobs-Fantauzzi is at it again, and we can't wait for the results! Known for his groundbreaking films Inventos: Hip Hop Cubano and HomeGrown: Hip-Life in Ghana, Eli will bring his unique and genuine approach to documenting international hip hop culture to Columbia. As seen in his previous work, Eli has a knack for forming close and comfortable bonds with his subjects, so instead of filming as an out-of-touch outsider, he engulfs himself deeply in the culture, and among the people, he films. It seems as though he enters his productions from a heartfelt place, something that carries through to each finished product. Revolución Sin Muertos (Revolution Without Death), will tackle a growing youth movement in a violent area of Columbia which uses Hip Hop education platforms to combat violence. It's youth empowering youth-this is what World Up is all about!
Eli is a grassroots filmmaker and needs all the support he can get to make this documentary a reality. Please read more and watch a trailer below. If you can, make a donation at the IndieGoGo page.
From the filmmakers:
The Comuna 13 in Medellin is the battleground between military police and different armed neoparamilitary groups whose fighting over control of these neighborhoods resulted in 2,899 violent deaths in 2009 alone - a staggering nine people murdered every day. The youth living in this area are often recruited as a part of the war or tragically caught in the crossfire. But the tide is changing, and many have chosen to fight back - peacefully.
Today there are dozens of community organizations run by teenagers using Hip Hop as a strategy to empower themselves and change not only their lives but the lives of those around them. REVOLUCION SIN MUERTOS will go inside this inspiring non-violent revolution by following organizers from El Elite, the umbrella organization for the youth movement, and the people who are desperately trying to save each other. It will bring viewers into these communities and help amplify the voices these youth have taken back for themselves
Since the beginning we have established partnerships with the YMCA in Medellin and La Elite, who have been supporting the hip hop movement in the Comuna 13 from the start. They are very excited about us coming and are already helping us organize the logistics on the ground.
This film will be a vehicle for those who refuse to be silenced, ignored and cut off from the rest of society.
As filmmakers, we want to bring this story to the world; not only a story of resistance, but of resistance through love, and of love through Hip Hop.
Support this project HERE.

Permalink:
No Comments »
No comments yet.