WU EDU: World Up Educational Outreach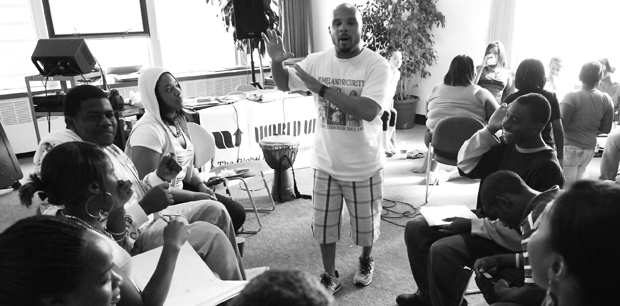 Photo credit Tokio Kuniyoshi
"FUTURE NOW (NYC DEPARTMENT OF EDUCATION EVENT) HAS INCREDIBLE GRATITUDE FOR WORLD UP! THANKS FOR THE ENERGY, INSPIRATION, AND MAGIC! WAY TO TAKE THESE KIDS TO A NEW DIMENSION OF LEARNING AND COMMUNITY CHANGE THROUGH MUSIC!"

Danielle DiMare
Director of School and CBO Partnerships
Office of School and Youth Development
NYC Department of Education
"WORLD UP CLASS FOR MY STUDENTS WAS A DIFFERENT CLASS, A DISTINCT CLASS, AN ENGAGING EXPERIENCE THAT PROVED THOUGHT-PROVOKING, EXCITING, AND TRANSFORMATIVE…."
Louise Beryl
Teacher for the IRC
PhD student, Dept of Anthropology and Education
Teachers College, Columbia University
Spearheaded by Aiko Tanaka in 2006, the World Up Educational outreach program (WU EDU) was founded to educate young people on the diverse cultures and issues of the global community by utilizing Hip-Hop and others forms of contemporary music.
Our mission is to not only provide students with unique firsthand perspectives on communities around the world but also to provide emerging international artists with a new platform to perform and dialogue about their work. We have developed high school and college level curriculum courses that cover literacy and acculturation for ESL, immigration and identity politics. And our programs meet the New York State Learning Standards for the Arts.
WU EDU has collaborated with a wide range of organizations and institutions including the United Nations, The International Rescue Committee, The Hip Hop Association, NY City Public Schools, The New School, Pace University, World Savvy, and many more.
Contact us to find out more information! edu [ at ] worldup [ dot ] org
What we did on our summer vacation!!