When I say Future, you say Now!
BY
Stephanie Riederman
, June 24, 2010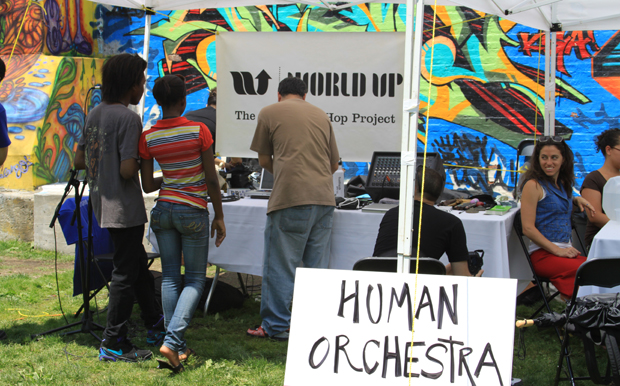 Like Whitney Houston sang back in the day, "the children are our future." And that future is being forged by amazing kids every day. Adults can help build a better future, too, by giving kids the tools and confidence to grow up and become the people that will change the world. Of course the world-changing methods favored by World Up always involve music. And at the The New York Department of Education's Future Now Expo, we were able to take a feisty group of 110 kids and teach them to beat-box, write lyrics, and use brand-new tech to mix their own song.
[nggallery id=1]
We had friends like Spazecraft and Okai along to help run the workshop. We split groups of students into lyricists and musicians and recorded their words (about challenges they face, like staying healthy and finding access to nutritious foods) and music in Ableton Live. After more than 110 kids made their way through the workshop, Spazecraft edited their work into one cohesive song and when it came time for the talent show, our students stunned the crowd with their professional-grade single with a message. Throughout the day the students also collaborated with other partner groups, like Digital Democracy,Friends We Love, Google and Toshiba, and learned how to utilize technology for everything from self-expression to education.


Download Children R the Future Here
We had a feeling that World Up's student-made song was a crowd-pleaser, but Danielle DiMare, director of School and CBO partnerships at the Department of Education, said it best:

"Future Now has incredible gratitude for World Up! Thanks for the energy, inspiration, and magic! Way to take these kids to a new dimension of learning and community change through music!"
World Up's lesson learned? Sure, the children are the future, but a difference is being made right now.
all photos credited to Tat Ho Yee, Friends We Love

Permalink:
2 Comments »
It's very colorful and lovely.

Comment by Hilary Lemmon — April 28, 2012 @ 1:00 am

[...] is participating in the upcoming FUTUREnowNYC event in 2 weeks with  the DOE. Here's a look at what they did last [...]

Pingback by May Hive NYC Community Call Recap | — May 3, 2012 @ 10:42 am