Thoughts on Troy Davis
BY
Hannah
, September 23, 2011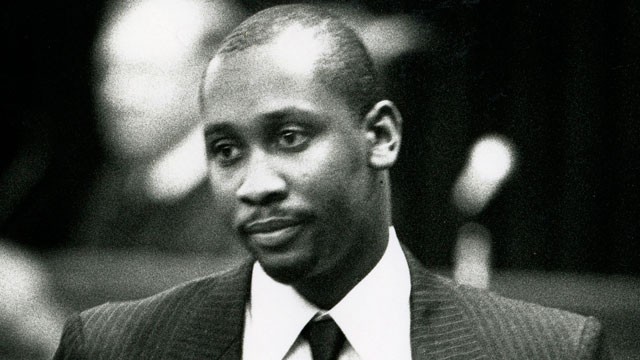 Wednesday night was a somber one, as many of us went to bed feeling heavy about the execution of Troy Davis. Davis was accused of murdering police officer Mark MacPhail in August of 1989, and has been on death row since. Despite high profile supporters and reasonable doubt, the Georgia court system decided to continue with the planned execution. The U.S. Supreme Court unanimously denied requests for a stay of execution. As family and supporters stood by, he was proclaimed dead at 11:08 pm on Wednesday September 21st. His story strongly resonated within the Hip Hop community. Responses echoed similar sentiments about injustices in the Mumia Abu-Jamal case, expressed in the Free Mumia movement. Artists and supporters from around the world stormed Twitter and other social media sites with their criticism for the court proceedings. The overarching rally cries were #TooMuchDoubt, followed by #TroyDavis, which were rumored to have been banned early Wednesday morning from trending tweets on Twitter.
There are many reasons why the Hip Hop community became so immediately and directly involved with the fight for Davis' life in recent days, and over the years. As a black man, many believe that he faced injustice at the hands of the state while on trial. His case was fraught with inconsistencies, with one juror stating "If I had known then what I know now, Troy Davis would not be on death row." There is much speculation that his case was rushed, he was not given proper legal representation, and police officers pressured key witnesses into identifying Davis - 7 out of 9 later recanted their statements. Many have taken the stance that his race played a large part in the corruption of his original trial, and in subsequent ones. This lack of appropriate response continued to the day of his scheduled execution, when he was denied a polygraph test that he requested in order to assert his innocence.
The response from popular culture was overwhelming, and organizations like Amnesty International have expressed hope that this momentum will continue in order to abolish the death penalty in the United States. Though, it is possible that the hash tag #TooMuchDoubt was crucial in the development of support partly because it did not ask readers to be against the death penalty, rather it expressed that evidence for Troy Davis' innocence did not only exist, but was strong. It said simply that Troy Davis deserved to live.
Leader in the Hip Hop community outcry was Atlanta born rapper Big Boi, of Outkast. His tweets grew considerably more outraged leading up to the day of the scheduled execution. He was live in Georgia. Early on Wednesday he tweeted "BreakingNews!! We're not waiting until 4:00pm we leaving Atlanta RIGHT NOW #Troydavis meet me in Jackson GA!!! 40 miles away," but as the day went on and the hour of execution approached, his response became increasingly subdued and concerned. He responded to one fan who asked about the atmosphere in Georgia, "Everything peaceful" and retweeted BET news' post "UPDATE: The Police, Protestors, and Family are quiet. Three hours past scheduled execution of #TroyDavis #Waiting" Positive Hip Hop artists have always supported social causes, however now with the widespread use of social networking sites, fans all over the world truly have a way to connect with their heros and join in supporting issues that are important to them. Many berate the use of Twitter and social media as a means of action, however when current issues are brought to the surface within these broad reaching networks, awareness is spread virally. As with all battles, awareness is the first step.
Artists that spoke out against Davis' execution included Big Boi, P. Diddy, Lupe Fiasco, Talib Kweli, ?uestlove, Russell Simmons, Q-Tip, Busta Rhymes and many others. Mos Def and Talib Kweli, as Blackstar, continued with a scheduled performance at St. Andrews Hall in Detroit on Wednesday night. In line with the history of political and self expression in Hip Hop, they did not hesitate to show their support for Troy Davis and make their feelings known regarding the death penalty in general. Kweli posted on his Twitter account shortly afterwards, "We performed respiration [track featuring Common] as Troy Davis was murdered last night. We rocked common verse, it took on new meaning last night. ["]Threw dirt on the casket, the hurt I couldn't mask it, mixing down emotions, struggle I hadn't mastered. On the amen corner I stood looking at my former hood, felt his spirit in the wind, knew my friend was gone for good.["]
Further reading:
Christopher Emdin, Huffington Post "The Troy Davis Case: Lessons for
Urban Youth" 
Further viewing:
"Jasiri X uses Pete Rock's classic beat, "They Reminisce Over You" to
shed light on the case of Troy Davis" (youtube) September 15, 2011



Permalink:
1 Comment »
FOLLOW UP:

MOS DEF CALLS ON BET AWARDS TO HONOR TROY DAVIS

http://www.hiphopdx.com/index/news/id.17051/title.mos-def-calls-on-bet-to-tribute-troy-davis-at-2011-bet-awards

Comment by Hannah — September 30, 2011 @ 1:16 pm