Boogie Down Across the Ocean: The Bronx Berlin Connection
BY
Eric Legaspi
, May 10, 2011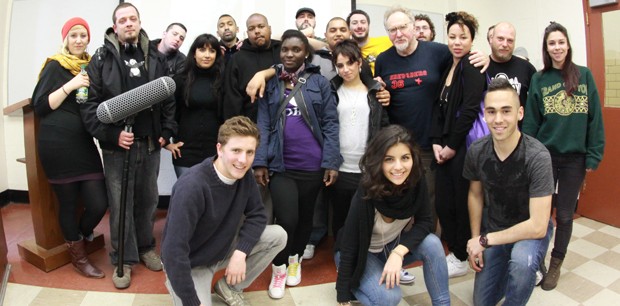 photo by Phungi
Mozart isn' t a name one usually hears at the top of a hip hop show. That said, Drob Dynamite opened last week' s performance by citing a longstanding relationship with the composer, and with a flurry of strings launched into a churning German verse. The 21-year-old MC - Robert Andjelkovic - is a member of the Bronx Berlin Connection, a program for at risk youth that combines artistic and personal growth with cultural exchange, using hip hop as its vehicle. Beginning in 2008, the program has been providing youth in Berlin with yearlong workshops in the art form and bringing them to the Bronx to experience the culture first hand. The program has since expanded to bring students from CUNYPREP to Berlin, produced a documentary, tracks and now has an album in the works.
One of the lead organizers and creators of Bronx Berlin is Olad Aden, a social worker originally from Providence, RI. After building his career as a mental health counselor at psychiatric facilities in south and east Providence, he made the move to Berlin in 2004 and began working with Gangway e. V., a decades-old youth organization. " I kept seeing all these kids who were into hip hop and I wanted to harness that energy into the work we were doing."
As he explains, " American influence is everywhere" which can often lead to the same misconceptions as hip hop faces here in the states. " A lot of these kids want to become drug dealers and have a gun." Though the trips abroad anesthetize this stereotype. " When they come here and see what drugs and crime have actually done, their thought process changes. There is also a stronger safety net in Berlin, so poverty is a lot different over here than it is in Germany. They' ve never really been exposed to what certain people have to face."
Traveling also allows them to change their own self-perception. " We work with a lot of Arab kids and they' re always seen as Turkish or Kurdish instead of German. When they' re in the States, suddenly they' re getting a lot of attention. People are approaching them saying ' You' re German, tell me about Germany.' "
Berlin' s youth is facing many of the same difficulties as their peers around the world – cutbacks in social services and education, unemployment and rising crime. "Gangs have actually started their own 'youth centers' in the city, they set up these buildings, signs and everything, to snare these kids." For youth without a lot of options, Gangway and Bronx Berlin work to fill the gap between potential and achievement.
These workshops force them to develop a mindful accountability for their peers. "There are some kids that won't talk for months, but eventually they can't help but get into a cipher. If a kid is constantly rhyming about violence or being derogatory with women, the rest of the group asks them why and they engage in a dialogue about their
issues." Olad has helped many kids who have dropped out of school or spent time prison continue their education and attain employment. Essentially they all develop as artists.
Bronx Berlin's show at the Gothe Institute's Wyoming House in the LES, in sponsorship with the German Consulate, was proof of how these talented youth share a mutual love, both for each other and for the craft. Written, spoken and freestyle were all well represented by everyone in the group, and there was an impressive showing by championship-winning beatbox duo 4XSAMPLE. Many of the MC's from the neighborhood were impressed, some even a little intimidated, but they traded verses naturally and by the end of the night, everyone was kickin' it and swapping information.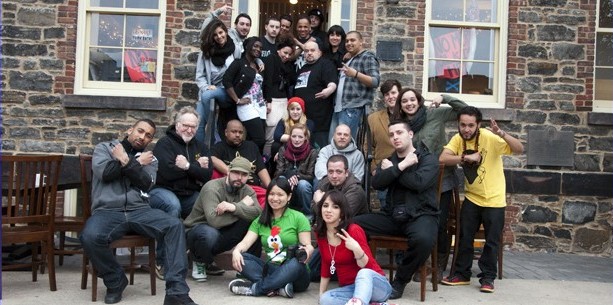 Photo by the legendary Joe Conzo
The activities during their weeklong visit took them all over the city. Performance opportunities ranged from DJ sessions at Scratch academy and sitting in with the Illspoken Crew at Bar 13, to a recording session at Red Stadium Studio with Sadat X. They also visited community-based non-profits like Bronx United Parents and attended more personal dinners with family members of their NYC team; they even got to hang with Doug E Fresh.
The organization, enthusiasm and attention provided by the entire staff cannot be overstated. Partnerships with universities like NYU, Fordham and CUNYPREP as well as organizations like The House of World Cultures and The Kreuzberg Childrens Foundation have helped keep the program going in these lean times. Olad and his NYC
counterpart Farbeon Saucedo are always on the hunt for collaborators so hit them up if you'd like to build.

Permalink:
No Comments »
No comments yet.