Trust Your Struggle - Sa Pilipinas Mural Tour 2010
BY
Eric Z. Camins
, June 11, 2010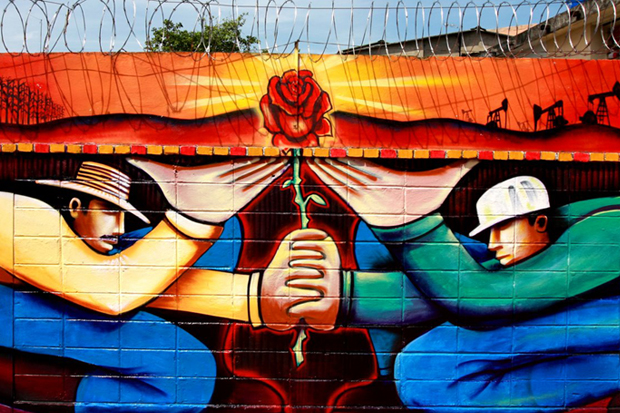 As many of our readers know (and if you don't, now you do) World Up has had an ongoing relationship with the amazingly talented Trust Your Struggle Collective. Trust Your Struggle (TYS) is a collective of visual artists, educators, and cultural workers dedicated to social justice and community activism through art. Their work includes, but is not limited to, graphic design, printmaking, silk screening, photography, illustration, graffiti writing, and mural painting. Based in the San Francisco Bay Area and New York City, TYS has produced gallery installations, live paintings, murals and arts education workshops with youth and community organizations since 2003. Their art continues the legacy of visual language, as they are contemporary storytellers influenced by graffiti art, comic books, political posters, religious and spiritual icons, and their ancestral indigenous traditions.

Trust Your Struggle are comrades, colleagues, and an inspiration to World Up. So we are once again partnering with TYS, and MVMT to help produce their next tour. This summer, TYS will embark on a one-month mural tour of the Philippine Islands, where the plight of the Filipino people, who experienced massive devastation in 2009 from which the country is still recovering, is oft unseen in the public arena. While on the mural tour, TYS aims to learn from the Filipino people, aid in their recovery, and inspire with art. After two successful mural tours through Latin America, and the United States, TYS intends to continue its work of community exchange and arts education. They will once again strengthen their commitment to building global community, solidarity, and giving cultural voice to various communities they partner with through the arts. This tour can not happen with out the support of donations by readers like you.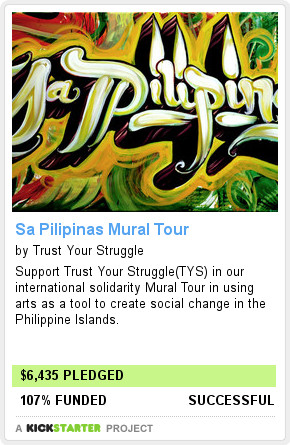 Read more about sponsorship opportunities here:

Permalink:
No Comments »
No comments yet.