This Woman's Work: Art in NYC
BY
Laura Norkin
, March 12, 2011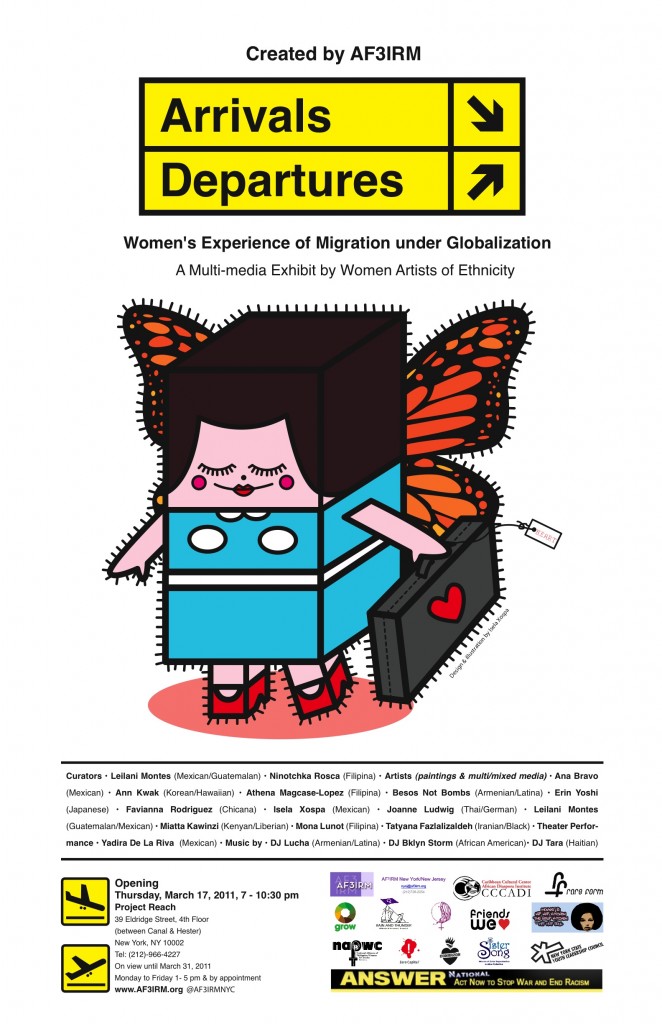 Hot on the heels of the 100th International Women's Day, upcoming exhibition ARRIVALS/DEPARTURES showcases 14 female artists' work around the theme "Women's Experience of Migration Under Globalization."
AF3IRM's first art show in New York City, this collection explores the idea that almost everyone in the U.S. either arrived here from someplace else, or certainly knows someone who did.  Therefore we should all have some understanding of the rattling, difficult transitions expected of anyone new to this country.
ARRIVALS/DEPARTURES treats migration as more than policy, legality and labor, but as the life-altering experience it is, and as emblematic of our young and ever-changing nation. The works presented will include a one-woman play by Yadira De La Riva, and a video installation by exhibit curator and World Up friend, Leilani Montes.
The participating women represent an array of ethnicities and experiences, and music will be provided by an all-lady set of DJs including  DJ Lucha, DJ Bklyn Storm and DJ Tara.
Twelve of the participating artists are:
Celebrate the women responsible for getting you where you are, by checking out this moving show.
Opening Reception: March 17, 2011, 7 pm
Project Reach. 4th Floor Gallery, 39 Eldridge Street, New York City
The show will be on view until March 31st, Monday to Friday, from 1 to 5pm. Alternate viewing times can be arranged through Project Reach, (212) 966-4227.
Full Artists Lineup | http://bit.ly/eIlTcQ
On Leilani Montes & Yadira De La Riva | http://bit.ly/gTrUvL
On Favianna Rodriguez, Ann Kwak, Miatta Kawinzi, Mona Lunot & Joanne Ludwig http://bit.ly/dYiqHZ

Permalink:
No Comments »
No comments yet.