"Woman Are Heroes" Street Artist Wins $100K TED Prize
BY
Laura Norkin
, October 22, 2010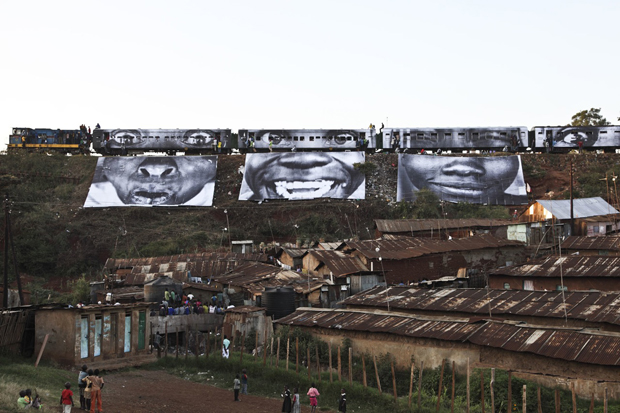 World Up prides itself on being ahead of the curve when it comes to global arts and music,
while striving to give shine to people that do socially conscious work. So, it's no wonder that
while we knew we'd found something special in "guerilla" street artist JR back in
early 2009
, the
international community is now catching on to his empowering vision.
This month, JR was chosen as the recipient of the TED Prize, a prestigious honor that includes
a gift of $100,000, to grant "one wish to change the world." Inspiring individuals (like chef Jamie
Oliver, who wished to educate children about food and fight obesity) have won this award. For a
change-maker that shares the World Up mission, of using art for social change, to get this honor
is a gratifying moment for us, and affirms the work we do to shed light on other artists making a
positive effect.
In his project "Women Are Heroes," JR took images of women in Sierra Leone-women who had
endured unimaginable cruelty-making funny faces. Happy, silly, goofy faces, to show the light
they still had in their hearts and lives. He then affixed those images all over their village, from
bus wraps and abandoned swimming pools, to the roofs of houses (in a special water-proof
material to help protect from the rainy season). His work became not only emotionally impactful,
but physically supportive of a struggling community. The project then became a film that was
met by extended standing ovation at Sundance.
We can only imagine how JR's "wish" will be put into words, and can't wait to hear more about
what he will do with the generous award. For now, watch the trailer above about his ongoing
project "Women Are Heroes," and think about what other artists out there are working to make a
change. Who else could we blog about now, that might be getting international nods and awards
in the future?
Learn more about the Ted Prize
here
.

Permalink:
No Comments »
No comments yet.