On Rotation: BlackMahal - The "Punjabi-Hip-Hop-Jazz-Funk Experience"
BY
Staff
, July 22, 2010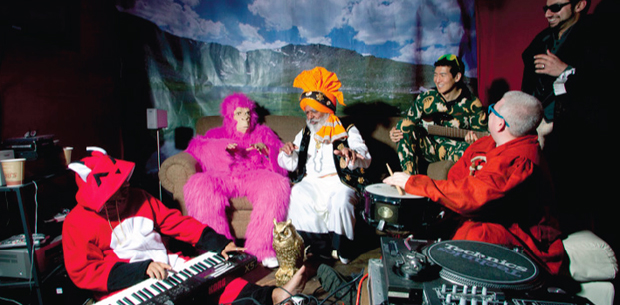 Cultivating their talents in the mist of San Francisco Bay, BlackMahal brings together myriad
cultural influences to produce a truly unique sound. With traditional Indian classics blended
into funk beats, this group takes hip hop to a whole new level.
Percussionist and vocalist Lal Singh Bhatti is known in his homeland as the "Godfather" of
the Dhol drum (a 15th century instrument from the Punjab region). Together with Vijay
Chattha (a well-known hip hop Dj from the Bay area), he is the foundation of BlackMahal.
With the addition of Balwinder Singh Bhatti, Jon Cook, Mandeep Sethi, J-Slim, Tim Chang and
Satish Pillai, BlackMahal has become the non-stop Punjabi-hip-hop machine that it is today.
For more information on the crew or to give them a listen, visit their website or Myspace.

Permalink:
No Comments »
No comments yet.