Join us for Loving Day, June 13th
BY
Ken Tanabe
, June 9, 2010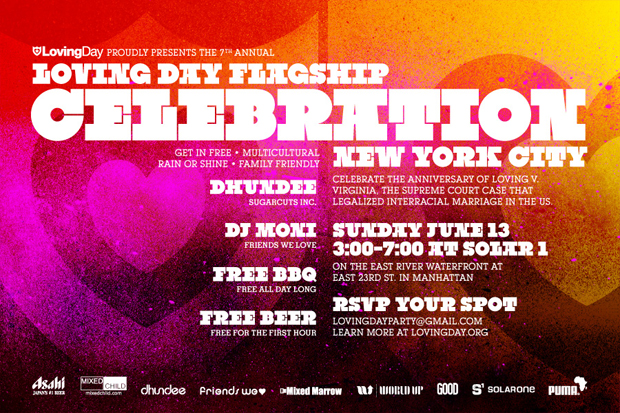 White supremacy was a part of U.S. law, even before there was a U.S. The cruel beginning of this behavior can be traced to the anti-miscegenation laws, which were designed to prevent interracial relationships and marriage through legal punishment like fines, imprisonment, and worse.
When we think about those laws, most Americans jump straight to the black/white dynamic and the civil rights era which looms large in our social consciousness when actually, anti-miscegenation laws were first created to separate European settlers from Native Americans. They were later updated to include people of African descent, and updated yet again to include (or, rather seclude) people of Asian descent. These laws affected many groups, but they all shared one thing: they were designed to separate whites (and their social privilege) from everyone else.
This practice persisted quite legally until 1967, when a serendipitously named Supreme Court case called Loving v. Virginia finally declared interracial marriage bans to be unconstitutional. Today, people all over the world celebrate the anniversary of that case as "Loving Day."
Loving Day exists to fight racial prejudice through education and to build multicultural community. Even though those old laws are no longer, racism is not dead. There are still plenty of people in the world who strive toward segregationism when it comes to relationships. Recently, a Justice of the Peace named Keith Bardwell refused to marry an interracial couple in Louisiana. His rationale: "think of the children." Mr. Bardwell made the national news, but many others face discrimination in obscurity - often from members of their own family.
Despite these difficulties, the world is definitely changing. According to a recent Pew Research Center report, nearly one in seven new marriages in the U.S. is interracial or inter-ethnic. There is no better place to see these statistics in action than at a Loving Day
Celebration.
On behalf of all of the volunteers at the Loving Day Project, we invite you to join us in fighting racial prejudice through education and building multicultural community. Find a Loving Day Celebration near you on or around June 12th. If you can make it to New York City, we invite you to our Loving Day Flagship Celebration on June 13th from
3-7pm at Solar 1 (East River Waterfront at 23rd St in Manhattan). Please RSVP to [email protected].
Can't make it to a Loving Day event? It's fun and easy to host your own celebration of any size. Find out more at http://www.lovingday.org
Thanks and respect to World Up for being a good friend and longtime ally of the Loving Day project.

Permalink:
No Comments »
No comments yet.