"Mensaje de la Ultraprotesta"
BY
Joselina Fay
, April 13, 2010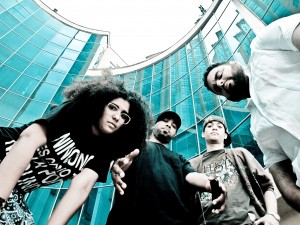 Messages from the Ultra-protest is the solo debut album of Dominican hip-hop artist R.e.a.l.i.d.a.d. As his name also states (Realismos Expresados Ante La Inminente Desigualdad Absurda y Deplorable / Realism Expressed in the face of Imminent Absurd and Deplorable Inequalities) R.e.a.l.i.d.a.d.'s first album strives to emphasize the social issues he sees in his society. Messages is a continuation of an extensive career. The work of R.e.a.l.i.d.a.d to promote hip-hop with a social message is based out of his hometown in Santo Domingo, Dominican Republic, but its reach spans Latin America. Over the years the artist's hip-hop and social activism have included the conceptual design of "Underground" a 90's Dominican TV show specializing in hip-hop music, being an active member of the Dominican hip-hop collective Alianza Meka, as well as the Mexican-based political arts collective "Quilombo Arte." He was also one of the founders of "Raptitud" an online Latin American hip-hop site.
R.e.a.l.i.d.a.d. works hard. The fruit of his work has yielded 12 tracks with various guest artist appearances such as Dominican MCs Sr. K.R., Hache ST, and poet Michelle Ricardo.  The album speaks from the heart, with the basis being R.e.a.l.i.d.a.d.'s social critique of political and economic inequalities, with a focus on the Dominican Republic and Latin American. Using this album as a medium he challenges people to recognize the realities around them and 'tener claro que el cambio debe comenzar por uno mismo' (be clear that change should begin with one's self). With the success of the album release concert, as well as the ensuing record sales, Messages continues to be a well-received effort from R.e.a.l.i.d.a.d., and hopefully the beginning to a long-lived solo career.
Currently, R.e.a.l.i.d.a.d is busy working on various new projects, including more shows in the Dominican Republic, Quilombo Arte's compilation CD Quilombo Radio Vol. 2, social/cultural work in conjunction with Dominican based organization Republika Libre, and the production of the debut album from spoken word poet Michelle Ricardo.
For more info: http://www.myspace.com/realidadhiphop

Permalink:
1 Comment »
[...] para ver el Articulo completo aquí [...]

Pingback by Realidad - Hiphop Domincano Avanza « Rapdiacion — April 20, 2010 @ 8:42 am