The Kids are Alright: WU at Brooklyn Hip Hop Fest's Family Day
BY
Valerie Ellois
, July 14, 2010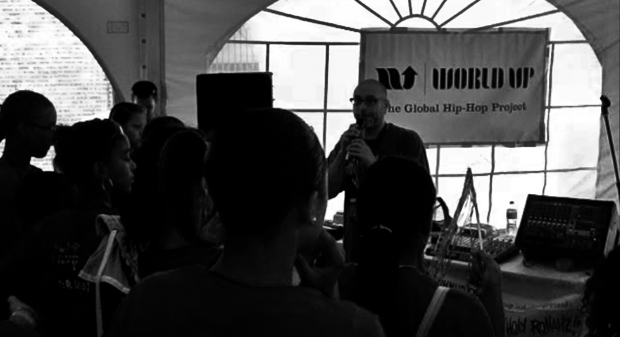 On Saturday, July 10th, Brooklyn Bodega presented the 6th annual Brooklyn Hip Hop Festival and history was made on the main stage. De La Soul headlined with the same exuberance they've been bringing since they first started MCing as teens. CL Smooth and Keith Murray performed together for the first time in years, and Money Making Jam Boys—who you know are legit from their moniker alone—held it down. In a different corner of the expanded festival grounds, a different kind of history was being made as hip hop and family united at this year's BKHHF Family Day-a collection of kid-friendly tables and workshops occupying the entire Tobacco Warehouse.
"I'm tired of playing Irish folk songs for my kids. I want to teach them about hip hop,"
Wes Jackson, President of Brooklyn Bodega, the organization responsible for the festival, explains.
Family Day, a portion of the Brooklyn Hip Hop Festival Main Day, makes hip hop, an often NC-17 scene, accessible to young minds. It fosters creativity, social consciousness, and community within the world of hip hop.
In addition to World Up, the participants included the Beatbox Championships, Hip Hop Association, Urban Art Beat, Black Girls Rock, Inc., SohNUP, LIFEbeat, Brooklyn Public Library, Icla Da Silva Foundation, and the Brooklyn Children's Museum. World Up expanded our Human Orchestra interactive workshop masterminded by Spazecraft to what's now called Human Orchestra: Living Remix. This workshop involves groups of children creating lyrics around a socially conscious message while also utilizing their own beat-making abilities either through self-generated sounds or with the use of small instruments, with the help of our friend Spazecraft, of course.
Using Ableton Live software, children of all ages worked with Spazecraft, an MC, artist, beatboxer, and boom-bapper, to lay it down-and did they ever. A large group of seventh graders, who traveled from a summer camp in Philadelphia for Family Day, rhymed, flowed and honed their craft to contribute to the Living Remix. As the kids bounced from table to table creating artwork and beat boxing before the backdrop of murals created by local artists, the old red brick Tobacco Warehouse served as a phantasmal hip hop castle. And the Kingdom? The poets and vocalists, dancers and DJs, artists and ensembles that rocked the stage hosted by PattyDukes & RephStar of Circa '95. Later in the day, as the crowd swelled at the main stage and hip-hop legends graced the mic, over at Family Day, World Up presented the track that the kids helped to create.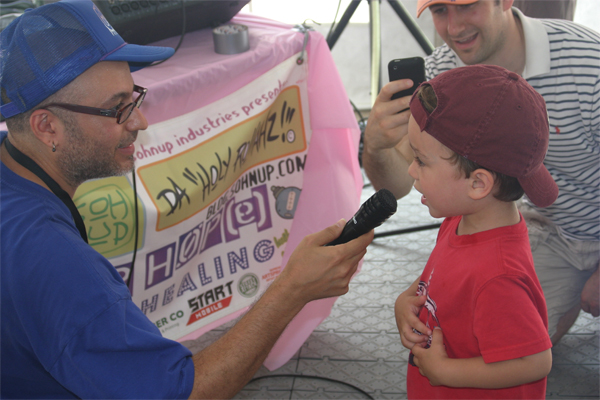 World Up is proud to help at events like Family Day which give a decisive glimpse into the future of hip hop culture.
Along with the other organizations, Saturday gave new meaning to being "Three Feet High and Rising," by giving rising stars in Brooklyn's youth a chance to shine.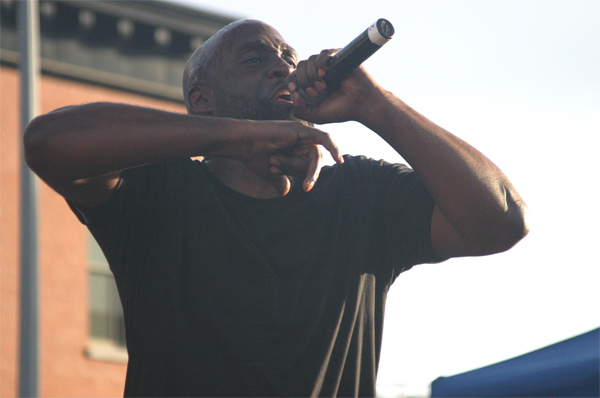 Listen to the Living Remix

photos by Eric Camins
No Comments »
No comments yet.