Welcome to Hindustan, an Interview with Music Without Borders
BY
Stephanie Riederman
, July 13, 2010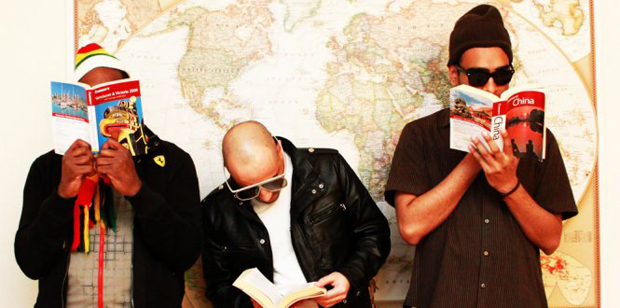 The recently formed production team, Music Without Borders, has caught our attention with their fresh and complex fusion projects. Comprised of Kunal Merchant, Seif Al-Din, and Von Swayne (of Indian, Egyptian, and Jamaican descents, respectively), the crew dropped "Hindustani Gangster" in October to much international hype, including a recent feature in Indian GQ, and on BBC Asia's Bobby Friction program. We sat down with Kunal and Seif to get a better sense of their influences and of where they're headed.
World Up: So how did you guys get together?
Seif: I moved to New York a few years ago and met Kunal through an artist I was working with at the time. We became friends and the vibe just grew and we started working on our music. Music Without Borders (MWB) was actually born out of a project we were working on in Columbus, [Ohio]. The idea was to go region by region around the world and to reproduce popular music from that region with a different perspective, [while] maintaining the soul of it, in an iconic, sample-heavy way. We called the project MWB and not ourselves.
Kunal: I can pinpoint exactly how we started working together. There was this one day at my house, when I used to record a radio show that I was between segments, and I was remixing this Chris Brown/T-pain track. I just basically had a baseline and drums, nothing very much, and I played it for him and we started working on that remix together. That was when I told him about this idea I had for a Jay-Z remix project, and from there we started working on Hindustani Gangster.
WU: This was your first major project?
K: Yeah, this is when the larger picture of Music Without Borders emerged. I was like 'I wanna be part of the movement.' These guys had worked on original music before, and are musicians. I'm not a musician per se, but I felt like my deejaying gave me the ear to understand what people want to hear, and to also conceptually bring things to the table.
WU: Does the general mission of MWB come from your aesthetic interest in mixing music from different regions, or does it have a more ideological objective, or both?
S: I would say both probably. I was in Columbus working with Von Swayne who's Jamaican, while I'm Egyptian, and we were working with an Indian artist, so already anytime we were in the studio talking about a new song or trying to create a vibe, there were already many different backgrounds and influences coming together.
K: Its also interesting that even though Von is Jamaican, he's the biggest Bhangra-head I've ever met in my life. He knows so much about Bhangra, probably much more than reggae music and it's really uncanny. Seif knows about all kinds of music, and me, more than Indian my interest is in house music, electronic music, and hip-hop, so it also comes from us and who we are, it's really genre-less music.
S: On any given day if you were to pick up any one of our iPods, you'd just see a really wide spectrum of music being played and that ties in aesthetically with what we do. As far as our ideological intentions, yeah we definitely set out to combine sounds from different cultures.
WU: On to your project "Hindustani Gangster," out of all the films and hip-hop artists that have a gangster narrative, what about the film the American Gangster and Jay-Z's album of the same title was so inspiring?
K: Jay-Z is probably one of my favorite artists overall, so an opportunity to work with his vocals and put our own spin on it really kinda fused with where I was in my life. I remember I was part of an experience in Austin, where I deejayed at a screening event for "Don," a classic Bollywood film, and after watching it, all the larger themes, scenery, outfits, and even the score struck me as so similar to "blaxploitation" films, and even similar to "American Gangster." So even though you're in India making a movie, or in America making a movie, its still on the same wavelength. That's what inspired the idea of working with something we're familiar with, like Jay, and making it something that Bollywood fans could directly relate to.
WU: Do you think there's a difference between "blaxploitation" films that were made by white people, and Bollywood films that are made by Indian people, for Indian people?
S: Definitely, yeah, there's a divergence there in purpose and motivation.
K: At the same time Indian cinema has been fighting western influences so much, but it's all so convoluted. Our objective was more, like, how can we reinterpret that scene as one with Jay living in India with the same life story? Its not like our whole influence was about comparing "Don" to similar American films, it just reinforced that fact that I've been to India, walked those crowded streets in Bombay, I know how the hustle can be the same for someone here growing up in New York. I'd be thinking there's gotta be some dude in these thick-packed subway terminals who's slinging drugs, and he can probably relate to what Jay is saying, even though Jay is American and he's Indian.
S: A lot of the time we spent working on the project, we would get to some point on a track and say, 'okay, what is the scene here, what picture are we painting?'
WU: It seems like you really think about music production cinematically. Is film often an influence for you on different tracks or projects?
K: Inherently it is, because we both want to eventually do scores. They're not limited by the boundaries of verses and choruses and stuff like that, and are based on emotion and what happens on screen. We wanted to listen and just feel that sense of anxiety, if the cops are after you, or anything else that's happening in the narrative.
S: The way I think of it, if we're not taken somewhere when we're creating it, whoever listens to it when it's done isn't going to be taken anywhere. Epic is also a big word for us, we love epic music and film scores.
WU: How influenced were you by projects like "Bombay the Hard Way" or others that mix hip-hop and Bhangra?
K: The original idea for this project was to create a simple mash-up, but then when Seif got involved we started adding instruments, going in and shifting things around and re-editing, adding drums, adding piano, all in a very layered way. So I'd say our influences came from whatever additions would make the track sound better. I didn't look at "Bombay the Hard Way," and don't get me wrong it's a great album, but I didn't say, 'I wanna do what Dan the Automater did, or what Madlib has done, or what other people have done on this record.' Half the records are original tracks with no samples and then the other half used samples with a lot of adjustments, so I think they helped set the foundation for this record but didn't influence our approach.
WU: Have you guys listened to Nigerian Gangster?
S: I personally think its a great project and have a couple tracks off it in regular rotation on my iPod. We're big Fela [Kuti] fans and Mike Love did his thing with it.
WU: What kind of response have the Indian-based Bhangra and hip-hop communities had to your project?
S: The response across the board has been great, it's been well-received by hip-hop heads, people who really listen to Indian music, it's been well-received from what I've heard by people who don't really listen to either. You know, we got posted on the Rockafella blog, Jay-Z's blog.
K: Honestly I don't know if [Jay-Z] personally knows about the project, but people who are managing him do. It's cool though, its bigger for us that the BBC Asia network really loved the project and they were playing it non-stop. Bobby Friction has now become one of our supporters so it's been a great introduction for us. The project was released in October, and we're here in June talking to you about it. It's a great feeling for us that you could listen to it now and feel like it's fresh, so we're really happy about that.
WU: Moving on to specifics, whats going on in the intro track? Where is that dialogue from?
K: We wanted the whole thing to feel authentic, and we felt like by having Beyonce's voice, she does the intro for American gangster, it wouldn't be as authentic, so we wanted our own original track. We had a friend who speaks fluent Hindi re-do it. The scene we set up for the intro was a grimy subway with train sounds in the background, and in India a lot of these stations are also crowded markets with people selling stuff so we wanted to add those atmospheric elements, and then we had him re-state what Beyonce said, in Hindi.
S: Though it's not a direct translation.
K: It's kind of a bonus track, a little scratch and sniff, if you're able to decode the message it will mean more to you, but we expected a lot of people to just skip it, but hopefully people liked it.
WU: On the "American Gangster" album, Jay speaks a lot on how he's viewed as a "bad guy" because of his past. Do you think in pop culture today drug dealers are still "bad guys," or is the lifestyle glorified?
K: It's always been glorified, since before hip-hop culture has been around. Everyone wants to be the smooth, powerful guy, and drug dealers and king-pins take on that role in our society.
S: Without a doubt that lifestyle is glorified in rap and pop culture, but I'd say that it's happening a lot less now. That should be recognized. People have a tendency to say that because hip-hop is telling a story, it's always glorifying the subjects it focuses on, but its not a glorification. People are glorifying better things right now.
WU: What do you guys think of recent trends which have allowed all these MCs who never lived that story (like Kid Cudi, Drake and Kanye, for example) to make it?
K: It's refreshing, honestly, and they can still be real. Drake is a perfect example; he talks about his life changing a lot in his album, but he's telling his own honest story. Those are three artists that we listen to a lot.
S: I think what's important is that all artists talk about what they know and represent properly, and that there's a spectrum.
WU: So, favorite tracks on the album?
K: Wait do you have a favorite?
WU: I really like "American Gangster."
S: Me too, its the last song we did and the first song we pushed. I also really love "Say Hello." It starts really slow and orchestral, which is probably why it's my favorite.
K: Yeah that was one of our favorite songs to do listening sessions with because it's so unexpected. I would say my favorite song is "Sweet," also because of the way the song was made. We were working on the track, and going in one direction with it when I got this really aggravating work phone call. So, I'm dealing with that and yelling at this guy on the phone while Seif was still working on the track. When I finally get off and I'm really pissed Seif was just like "listen to this," and he totally shifted it in an amazing way, and it changed my mood instantly.
S: That situation worked really well for "Sweet," because if you listen to it there's a lot of internal conflict going on.
WU: What kind of projects are you guys thinking about right now?
K: Bobby Friction called us in to do a piece for BBC called "Reproduce," where he asks producers to work on a fifteen minute segment for his show. We did that and added our own vibe to some Michael Jackson, Group 3 , Estelle, Kanye, and Rihanna stuff. What we're trying to work on now is a show with live remixes and changing visuals.
We're also starting a new party every Tuesday at Kush Lounge. We wanted to create a great after-work music alternative for people on a Tuesday night and we're trying to use that platform to develop our sound. We're working with all our friends who manage everything there, so it's almost our home away from home. Everyone should come out, eat, drink, and smoke shisha!
S: Otherwise we try and do remix work as often as we can, and we're working with an R&B singer now. We try and keep it as open as we can, you know not to be hokey or anything, but truly like, music without borders.
To download the Hindustani Gangsta Mixtape go HERE
For more on Music Without Borders, check them out here
No Comments »
No comments yet.