DUB INC (French for Fire)
BY
Staff
, June 24, 2010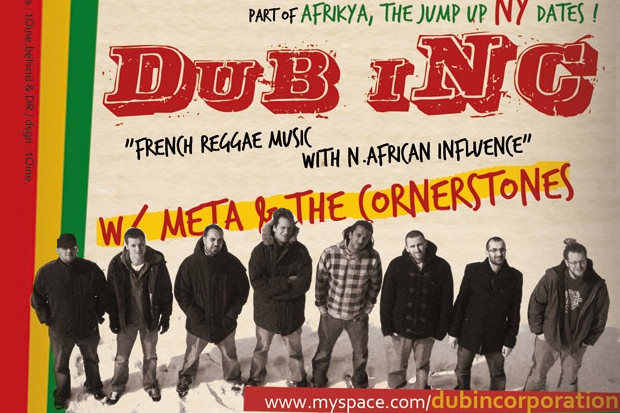 Recently DUB INC. rolled through NYC and we were blown away by them.
DUB INC has been labeled a French Reggae Group, but explore their albums and other musical
influences become very apparent. With a fusion of North African music, Hip-Hop and nearly
every genre in between, DUB INC. has developed a unique sound that has the international
music community wanting more.
The group burst onto the music scene in 1997 in their home city of Saint-Étienne, France.
Dubbed the Village of Art and History, Saint-Étienne was a prime spot for eight skilled
musicians to marinate. They recorded their debut EP, "Dub Incorporation 1.1," in 1999 but it
wasn't until "Diversité," their third EP which launched in 2003, that the crew was able to burst
onto the national music scene. Their latest album "Afrikya" was released in 2008 to more critical
acclaim.
With their new recordings as ammo, DUB INC played show after show garnishing legions of
fans in their home region, and then throughout Europe. With the release of "Dans le Décor"
in August 2005, their tour expanded to Germany, Portugal, Italy, Spain, Greece and Morocco.
At long last, DUB INC dropped down for a few dates in the New York City area.
…look for a killer review of the show coming soon.
No Comments »
No comments yet.